Current students, faculty and staff can send a Microsoft Office document or a PDF as an attachment from their CUNE email account to a FindMe printer (either black/white or color), using one of the following addresses. Email sent from an unrecognized account is automatically discarded. Simplex is single sided and duplex is double sided printing.
findme-bw-simplex@cune.edu
findme-bw-duplex@cune.edu
findme-color-simplex@cune.edu
findme-color-duplex@cune.edu
After sending the email, use the mobile client at webprint.cune.edu/client to confirm the print request and then go to any Toshiba device on campus to release the print job. If a document is not confirmed after a short time, it will automatically be removed.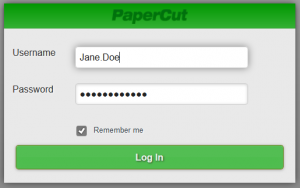 1. Visit webprint.cune.edu/client and login with your CUNE username/password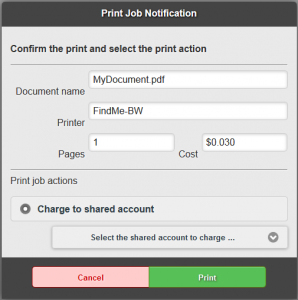 2. Select the account to charge, if needed, and click "Print" to confirm the print request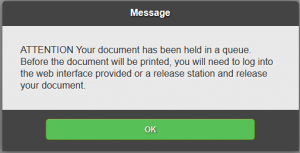 3. Confirm the message that the print job is pending
4. Go to any Toshiba device on campus, swipe your ID card and release the print job